JOINTLY for OER – About the Project
JOINTLY is one of three cross-cutting projects in the German "OERinfo" program and supports the cooperation of OER projects and actors. With the OERinfo program, the German Federal Ministry of Education and Research promotes the awareness of OER and the development of a wider circle of users. A total of 23 projects are funded, in which people are sensitized and qualified, who are entrusted with the training and further education of educational staff.
But these projects and other OER actors in Germany do also work in cross-cutting activities our JOINTLY-team supports:
OER-Trainer Cooperation (concepts and materials and concepts for OER qualification and sensitization activities)
Software, IT Infrastructures and Metadata
Policy
Legal Questions
News
Meet us at the 2nd OER World Congress. Find our stand at the exhibition (look for "JOINTLY" and "edu-sharing")
Download the ♥ OER Song ♥ we publish at the conference…
www.jointly.info/oer-song
…and re-produce it in your language!
Follow us on Twitter: @OER_JOINTLY
Merken
Merken
Merken
Merken
Merken
Merken
Merken
Merken
Merken
Merken
Merken
Merken
OER-Contentbuffet / Trainer Cooperation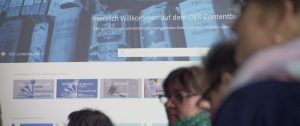 In this online environment OER multipliers and trainers do cooperate. For following generations of OER multipliers we are working on concepts and materials for OER qualification and sensibilization activities:
identifying target groups for OER qualification and sensibilisation, their needed competencies
suitable sensibilisation scenarios and formats
materials for OER trainings and information activities
The public search of the OER-Contentbuffet.info provides materials and concepts – most in German language but we are collecting source files to support translations.
Furthermore, the OER-Contentbuffet is the beta testing environment for modern OER software tools and infrastructures which are collected and adapted in the IT cooperation acitivities.
Search #OERcontentbuffet on Twitter to find news
Merken
Merken
Merken
Merken
Merken
Merken
Merken
Merken
Merken
Merken
Merken
Merken
Merken
Merken
Merken
Merken
OER Software Tools / IT Cooperation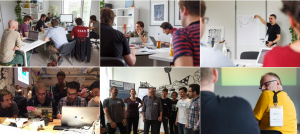 The OER-Contentbuffet is a modern OER-Infrastructure for producing, managing, editorial work and publishing OER. In our IT cooperation we are collecting and adapting software tools as well as working on concepts for IT infrastructures which can network educational institutions, content providers and others to share and cooperatively work on OER.
OER repository and referatory software (edu-sharing)
OER plugins / extensions for authoring software and other E-Learning tools such as wikis (Mediawiki, Tutory, Memucho)
OER services which can be used by LMS, authoring and other tools and repositories / referatories

Metadata editor, metadata generators (i.e. CC-Stamper to "print" license metadata into images)
License wizards (i.e. CC-Mixer to find the right CC license)
Curriculum collections

OER infrastructure concepts (project wiki in German)
Search #hack4OER on Twitter to find OER software tools updates
Merken
Merken
Merken
Merken
Merken
Merken
Merken
Merken
Merken
Merken
Merken
Merken
Merken
Merken
Merken
Merken
Merken
Merken